Wasp AssetCloud

Easy-to-Use Asset Tracking Software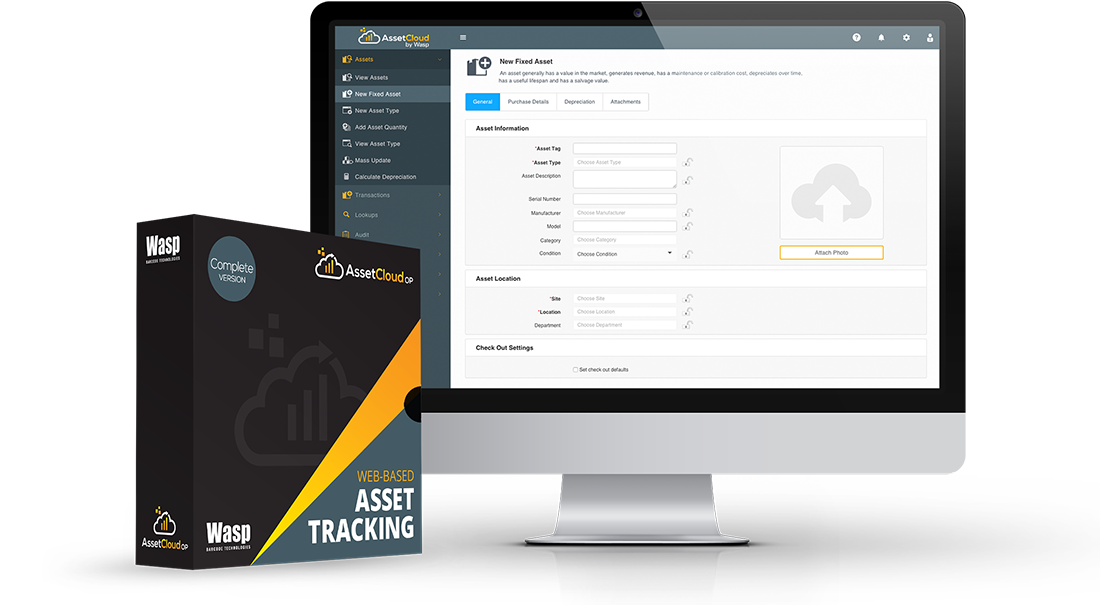 Wasp AssetCloud Complete, 1 User, 1 Year Subscription - Asset Tracking Software & Mobile App
#633809000591
List Price: $995.00
Our Price: $805.00
Click here to jump to more pricing!
Complete Fixed Asset Tracking System Tailored to You
Wasp is the only asset tracking solution provider that offers all the necessary software, hardware, and asset tags you need to implement an asset management system. This makes AssetCloud not only the most feature-rich asset tracking software in the industry, but also makes it the most complete solution available from one provider.

---
Ditch the Spreadsheet
Automate Check-In/Check-Out
Track where your fixed assets are, who has your assets, and when your assets are due back. Checking out assets allows you to assign responsibility to an employee, a customer, or even a vendor. Checking in assets releases end user responsibility and allows the assets to be reallocated throughout your organization.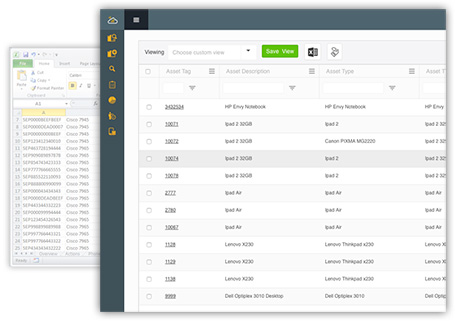 ---
Examples of Use
IT Asset Tracking
AssetCloud provides insight to the full life cycle management of your IT assets and empowers you to make strategic decisions for your organization.
Equipment Tracking
The cost of lost and unused equipment can add up quickly. AssetCloud allows tracking of all your important equipment and makes it easy and...
Facility Management
Individually managing large quantities of non-critical, but similar assets for compliance checks is time consuming and grueling...
Tool Tracking
Increase efficiency and standardize procedures for tool access and eliminate issues related to tool management and control.
Funding Management
Maintaining compliance on funds issued to your organization is crucial. AssetCloud allows you to manage the awarded funds and the...
Mandate Compliance
Most state and federal laws mandate that fixed assets be controlled and accounted for throughout their useful life...
---
See Our Software in Use
Automate Check-In/Check-Out
Easy-To-Use Interface
All your organization's asset data made accessible, adaptable, and reliable.
Centralized Role-Based Security
Save time by managing user accounts, permissions, and security settings in one place. Enterprise-grade role-based security allows you to define fine-grained access rights for each user.
Eliminate Manual Tracking
Stop wasting your time logging information that is more easily captured with an efficient barcode asset tracking system.
Data Customized For Your Context
Quickly find exactly what you need with smart views and conditional search feature. Users can create and save custom views that are pertinent to their needs and share them across the organization.
Easily Build Reports
Choose a standard report or build our own. Compile and visualize data that keeps you informed about your organization..
---
Track Assets Anywhere On Nearly Any Device
Performing scan-intensive transactions just got easier. Track assets on iOS, Android, or Wasp mobile computer devices. AssetCloud's mobile flexibility helps you and your team stay connected and up-to-date on all your asset activity wherever you, or your assets, go.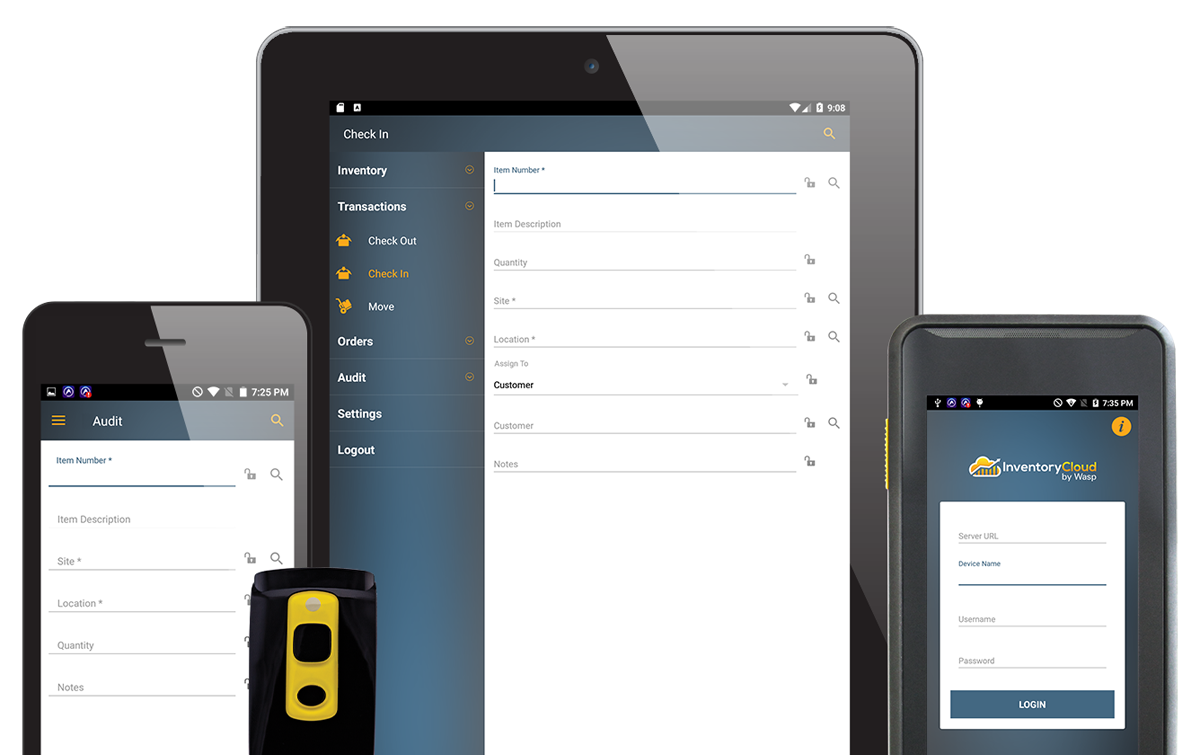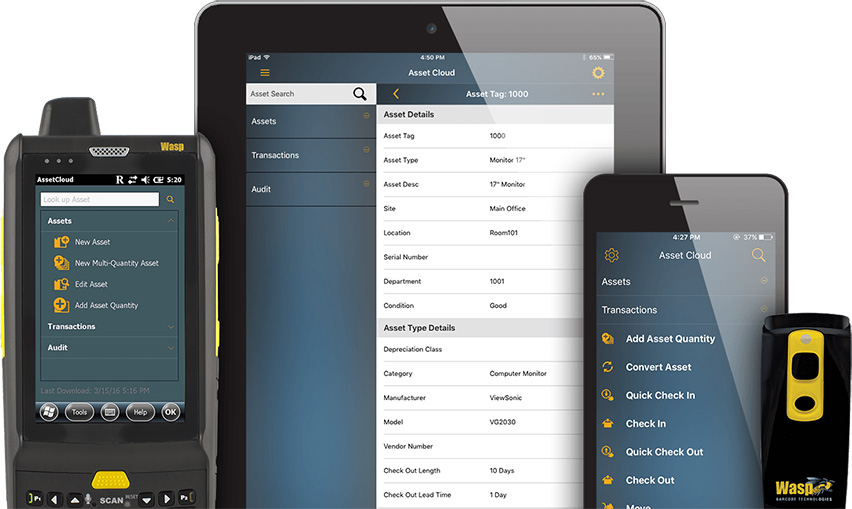 ---
Pricing Notes:
Pricing and product availability subject to change without notice.
Wasp Barcode Technologies Products
AssetCloud Complete - 1 Year Subscription
Wasp AssetCloud Complete, 1 User, 1 Year Subscription - Asset Tracking Software & Mobile App
#633809000591
List Price:
$995.00
Our Price: $805.00
Wasp AssetCloud Complete, 5 User, 1 Year Subscription - Asset Tracking Software & Mobile App
#633809003882
List Price:
$2,495.00
Our Price: $2,245.00
Wasp AssetCloud Complete, 10 User, 1 Year Subscription - Asset Tracking Software & Mobile App
#633809004124
List Price:
$3,995.00
Our Price: $3,595.00
AssetCloud Complete - 2 Year Subscription
Wasp AssetCloud Complete, 1 User, 2 Year Subscription - Asset Tracking Software & Mobile App
#633809001420
List Price:
$1,780.00
Our Price: $1,602.00
Wasp AssetCloud Complete, 5 User, 2 Year Subscription - Asset Tracking Software & Mobile App
#633809004346
List Price:
$4,480.00
Our Price: $4,032.00
Wasp AssetCloud Complete, 10 User, 2 Year Subscription - Asset Tracking Software & Mobile App
#633809004360
List Price:
$7,180.00
Our Price: $6,462.00
AssetCloud Complete - 3 Year Subscription
Wasp AssetCloud Complete, 5 User, 3 Year Subscription - Asset Tracking Software & Mobile App
#633809004353
List Price:
$6,360.00
Our Price: $5,724.00
Wasp AssetCloud Complete, 10 User, 3 Year Subscription - Asset Tracking Software & Mobile App
#633809004377
List Price:
$10,185.00
Our Price: $9,166.00
AssetCloud Complete - 1 Month Subscription for Adding Additional Users Only
Wasp AssetCloud Complete, 1 User, 1 Month Subscription - FOR ADDING ADDITIONAL USERS ONLY
#633809000584
List Price:
$83.00
Our Price: $75.00
AssetCloud Complete - 1 Year Subscription for EDU Edition
Wasp AssetCloud Complete, 5 Users, EDU Edition, 1 Year Subscription - Asset Tracking Software & Mobile App
#633809008412
List Price:
$2,495.00
Our Price: $2,245.00
AssetCloud Complete - RFID
Wasp AssetCloud-RFID, 1 Year Subscription
#633809008559
List Price:
$7,490.00
Our Price: $6,741.00
Wasp AssetCloud-RFID Add-on Module, 1 Year Subscription
#633809008566
List Price:
$4,995.00
Our Price: $4,495.00
MobileAsset to AssetCloud Upgrade - 1 Year Subscription
Wasp MobileAsset to AssetCloud Upgrade, 5 Users, 1 Year Subscription - Asset Tracking Software & Mobile App
#633809004308
List Price:
$1,895.00
Our Price: $1,786.00
Wasp MobileAsset to AssetCloud Upgrade, 10 Users, 1 Year Subscription - Asset Tracking Software & Mobile App
#633809004315
List Price:
$2,996.00
Our Price: $2,696.00
Wasp AssetCloud Hardware Bundle
Wasp AssetCloud Hardware Only Bundle with DR4 Mobile Computer, WWS250i Pocket Scanner & WPL308 Label Printer
#633809007033
List Price:
$1,995.00
Our Price: $1,795.00
Wasp AssetCloud Hardware Only Bundle with HC1 Mobile Computer, WWS150i Pocket Scanner & WPL304 Label Printer
#633809002571
List Price:
$1,995.00
Our Price: $1,795.00